Teaching is fundamentally erotic.
New goal: Use blog as a documentation of my intellectual development through note-taking doodles. Oh, and as a means of relating, to you, my humble reader, the details of my search for a reliable man.
First up: Sappho lecture notes.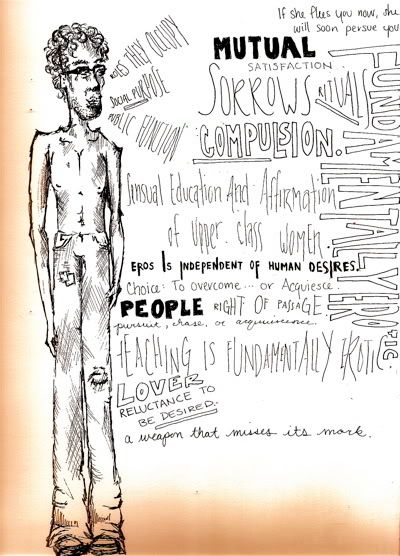 Make note: Eros is independent of human desires. Therefore, one cannot blame oneself. God bless scapegoats.
Rainy Monday Mix
Of Montreal - Wraith Pinned to the Mist and Other Games
Patty Griffin - Rain
Bob Dylan - Tangled Up In Blue
Dion and the Belmonts - Abraham, Martin, and John
Mountain Goats - Pale Green Things
Josh Ritter - Come and Find Me
White Stripes - Stop Breaking Down